Published on Thursday, September 7, 2017
Media Contact: Karen Bascom
The University of Mississippi Medical Center received 316 extramural grants and awards in fiscal year 2017, the most in the institution's history for a single year.
The dollar amount for this record year – $65,454,262 – is also the fourth highest in Medical Center history.
"Research funding is important as we move forward," said Dr. Richard Summers, associate vice chancellor for research. "Research techniques are becoming more complicated and expensive. At UMMC, we have been able to accomplish a lot with a little, but it will become harder to do that with time."
Summers said that two of the three years with higher funding totals, 2011 and 2012, occurred during a government stimulus period. 2014, which holds the record for total dollars with more than $82 million, included funds for the recently opened School of Medicine building.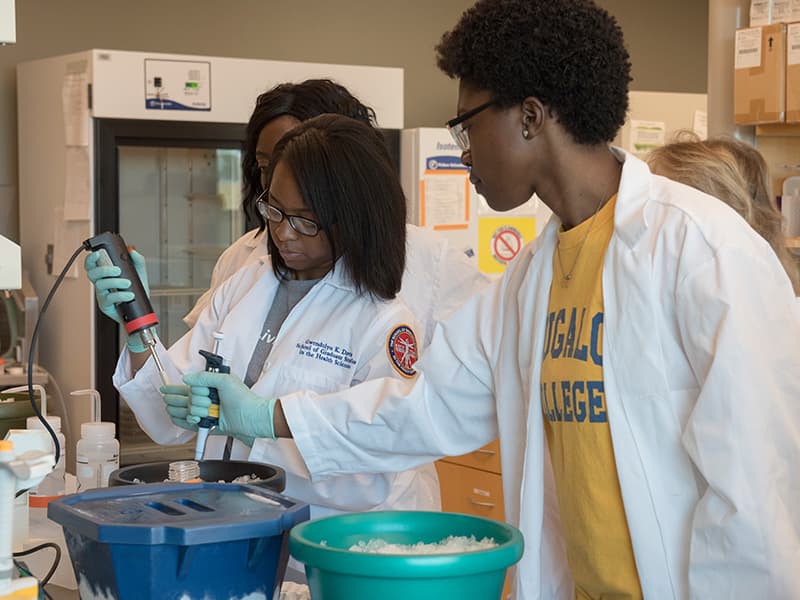 The money from grants, awards and contracts pays for physical resources, such as new equipment and supplies, as well as human capital, such as salary support and workforce development. While a portion of the grants go towards community and improvement initiatives, the majority of the funds support UMMC's research enterprise.
UMMC received several major program grants this year, funding the new Mississippi Center for Clinical and Translational Research and Mississippi Center for Perinatal Research. The Medical Center also had renewed support for long-term stalwarts like the Atherosclerosis Risk in Communities Studyand the Jackson Heart Study.
"However, the fact that there were more grants awarded this current year means that more individual principal investigators with unique projects are being funded," Summers said.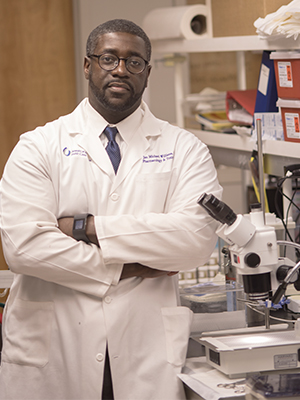 Dr. Jan Michael Williams, associate professor of pharmacology and toxicology, is one of many investigators who received an R01 research grant this year from the National Institutes of Health.
"This award helps build the laboratory and provide infrastructure," Williams said. It also facilitates travel to scientific conferences, key to finding new collaborators, who "help build research capacity and establish new projects."
Williams studies the role of obesity and diabetes in kidney disease. He's using a model that develops obesity and hypertension early in life to study the mechanisms that cause kidney injury associated with childhood obesity.
With one in three American children overweight or obese, "Physicians are seeing more and more children with signs of kidney disease. Childhood obesity is increasing to the point where physicians are starting to check kids for proteinuria [a marker for renal disease]," Williams said.
"Most people with obesity have elevated glomerular filtration rates," he said. In other words, the kidney increases the rate it filters blood as a compensatory mechanism. In his study, he expects to see the elevated rate cause strain on the kidneys, which could lead to kidney disease.
Dr. Bernadette Grayson, assistant professor of neurobiology and anatomical sciences, received a research grant from the Department of Defense to study how spinal cord injuries, or SCI, may alter metabolism.
"When controlled for inactivity, these individuals have higher levels of hypertension, lipidemia and obesity than people with other types of injuries," Grayson said. "It's likely a component of the central nervous system with a genesis in the injury."
Her hypothesis is that peripheral inflammation caused by SCI affects the brain cells and hormones that regulate body weight control. By comparing low and high-fat diets, Grayson expects to see changes in not only how much the subjects eat, but also how their bodies control glucose.
"The strength of this study is that it incorporates two areas of research that have never really been put together," Grayson she said. "Understanding if there is anything unique about the way SCI individuals gain weight and control glucose will help clinicians direct the trajectory of their care long term."
UMMC has a strong track record of gaining research funding and using it well. In October 2016, Dr. Wayne Wahls of the University of Arkansas for Medical Sciences penned an essay titled "Send my tax dollars to Mississippi," which highlighted UMMC's efficiency in turning federal funding into research publications.
"Taxpayers net more scientific publications by funding investigators at the University of Mississippi Medical Center…than by giving the funds to prestigious and top-ranked institutions," Wahls wrote. UMMC researchers publish 10 peer-reviewed articles per $1 million of NIH funding; Harvard and Johns Hopkins University averaged five.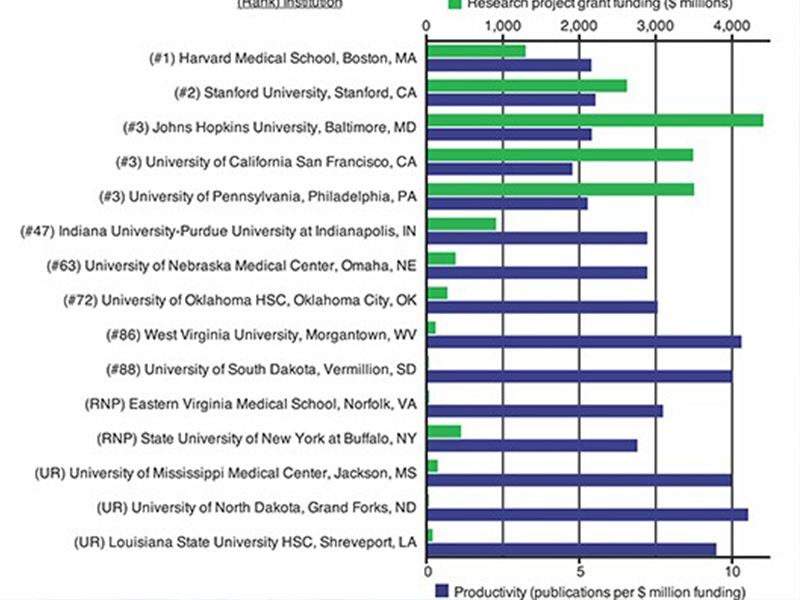 The analysis only included funds from the NIH, the United States government's primary supporter or biomedical research. Most of UMMC's extramural funding comes from this agency or other federal sources. However, other groups financially support basic and clinical research.
Summers hopes to see UMMC double its extramural research funding in the next five years. He said this is attainable if the Medical Center thinks outside the box in terms of funding opportunities.
"We need to look for opportunities outside of our traditional sponsors, including industry and foundations," Summers said. "All money is green."
He also points to UMMC's recent investment in infrastructure as an incentive for groups to fund research here. The Translational Research Center, set to open later this year, and plans for an expanded Clinical Trials Unit are among the highlights.
"The work we've done over the last couple of years, capitalizing on support we've received from the state and federal governments for research facilities, have positioned us for success in the future," he said.