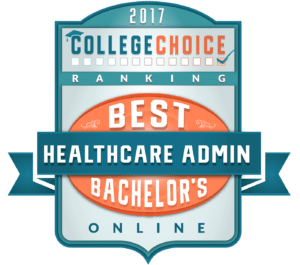 Jackson State University's Healthcare Administration Online Degree Program was recently ranked No. 11 out of the top 20 best online bachelor's programs offered in the country, based on the latest standings posted by College Choice – a leading authority in college and university rankings and resources.
College Choice developed its list by looking at academic quality, institutional reputation, program accreditation, along with "return on investment" or the differential between tuition costs and average early career earnings.
According to the Bureau of Labor Statistics, a 17 percent employment growth through 2022 is projected for healthcare administrators which is higher than the national average of growth for other occupations.
"Pursuing a career in healthcare administration makes a lot of sense in this economy because of the steady growth in demand for health and medical services," Christian Amondson, Managing Editor of College Choice, said of the ranking. "A bachelor's degree in healthcare administration can set you up nicely in the field, though if you really want to advance, a master's might be most advantageous. That's why we created these lists – in order to help people interested in the field figure out if, and if so where, they need to expand their educational background."
At JSU, healthcare administration is one of the largest undergraduate programs in the School of Public Health. When program director Clarence Thomas learned of the ranking, he said: "We have a commitment to our students to provide them a quality service and it's certainly good news to learn that we are in the top 20."
College Choice is an independent online publication dedicated to helping students and their families find the right college. The site publishes rankings and reviews that make finding the best colleges for different interests easier and more fun, as well as resources to help students get into, pay for, and thrive at the college of their choice.
The ranking may be viewed in its entirety at: 
20 Best Online Bachelor's in Healthcare Administration Degrees for 2017