x
March 18, 2019
ITTA BENA, Miss.—Mississippi Valley State University will host its 22nd celebration of the Women in Science and Technology (WIST) Conference Friday, March 22. 
x
The conference, themed "Women in Science and Technology Taking a Stand in STEM", will take place in the Claude G. Perkins Auditorium, located in the William Sutton Administration Building, from 8:30 a.m. to 2 p.m.
x
During the morning session, the conference will feature a special ceremony to remember and honor the contributions of WIST founder, the late Dr. Constance G. Bland, by renaming the conference in her honor.
x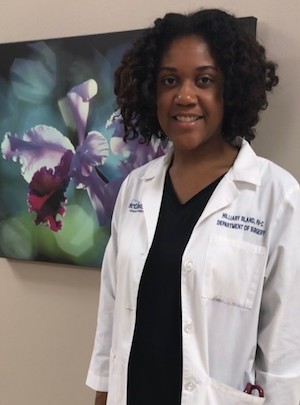 This year's keynote speaker will be Bland's daughter, Hilliary Bland-Spivey.
x
The WIST Organization is a student-led organization, comprised of undergraduate female students majoring in STEM disciplines, designed to promote women in science and technology. These students are committed and devoted to making a difference in the scientific community.   
x
The goal of the annual conference is to show middle and high school females that science, technology, engineering and mathematics (STEM) careers are exciting, attainable and rewarding as well as to increase the awareness of STEM disciplines and MVSU.
x
Dr. Latonya Garner, chair of MVSU's mathematics, computer and information sciences department, said she is extremely excited about this year's event because it will expose young females to successful women in the fields of STEM, including obstetricians and gynecologists, physician assistants, computer scientists, nurses, biologists and mathematicians.
x
"The WIST Organization aspires to become a motivator to young ladies who yearn to be different in shaping the world in the 21st century," said Garner. "We hope this conference will improve young females' attitudes about STEM and increase their interest in MVSU."
x
Spivey is a Leflore County native and an alumna of St. Francis of Assisi, Leflore County High School and MVSU.
x
Having received a full academic scholarship, she decided to attend Valley to earn her bachelor's degree.  With aspirations of becoming a physician, Spivey majored in Biology.  During summer breaks, she participated in multiple internships to enhance her interest in medicine and the sciences.
x
In the summer of 2008, Spivey received an internship opportunity at one of the top medical schools in the country, Johns Hopkins University in Baltimore, Maryland.  Over the next two summers, she interned at St. Jude Children's Research Hospital in Memphis. 
x
Additionally, during her time at MVSU, Spivey became involved in several organizations at MVSU, including Women in Science and Technology (WIST). She also attended and participated in many research conferences, presenting work from her summer internships.  It was during these conferences that she discovered the career path of a physician assistant. 
x
Upon her last year at MVSU, she ultimately decided to pursue the career path of a PA, or physician assistant.  She graduated from MVSU in 2010 with summa cum laude honors.
x
In May 2011, Spivey was accepted to be a part of the inaugural physician assistant class at Mississippi College.  She graduated with a Master of Science in Medicine degree in December 2013, becoming one of the first PA's to be trained within the state of Mississippi.
x
After graduating from PA school, Spivey sought positions in the Houston, Texas area and was offered a position at the University General Hospital as a surgical PA.  Over the span of three years, Spivey filled several positions as a surgical PA, then later transitioned to the medical specialty of urgent care in March 2018. 
x
Spivey is currently employed at Next Level Urgent Care servicing the greater Houston area.  She is a member of Alpha Kappa Alpha Sorority, Inc. and recently took on the role of vice president of MVSU's Houston-area alumni club. 
x
Spivey is the daughter of Edgar Bland, Jr. and the late Dr. Constance Bland. She currently resides in Houston with her husband, Derio, and two daughters, Blake and Bailee.
x
Other presenters for the conference include: Mrs. Cassandra Brown, Dr. Mary Crump, Ms. Jacquilyn R. German, Mrs. Karolyn Bridges-Jordan, Mrs. Jackie Henne-Kerr, Dr. Nneka Okezie Okeh, Dr. Manju Pande, Ms. Sabrina Phillips, Mrs. Muriel R. Pollard, Mrs. Margaret Reynolds, Dr. Hattie Spencer, Dr. Candace Carter Stevens, Dr. Yolanda Harvey-West, and Dr. Stacy White. 
x
For questions or more information, contact Dr. Earlean Anderson, director of academic support for STEM departments, at (662) 254-3638.