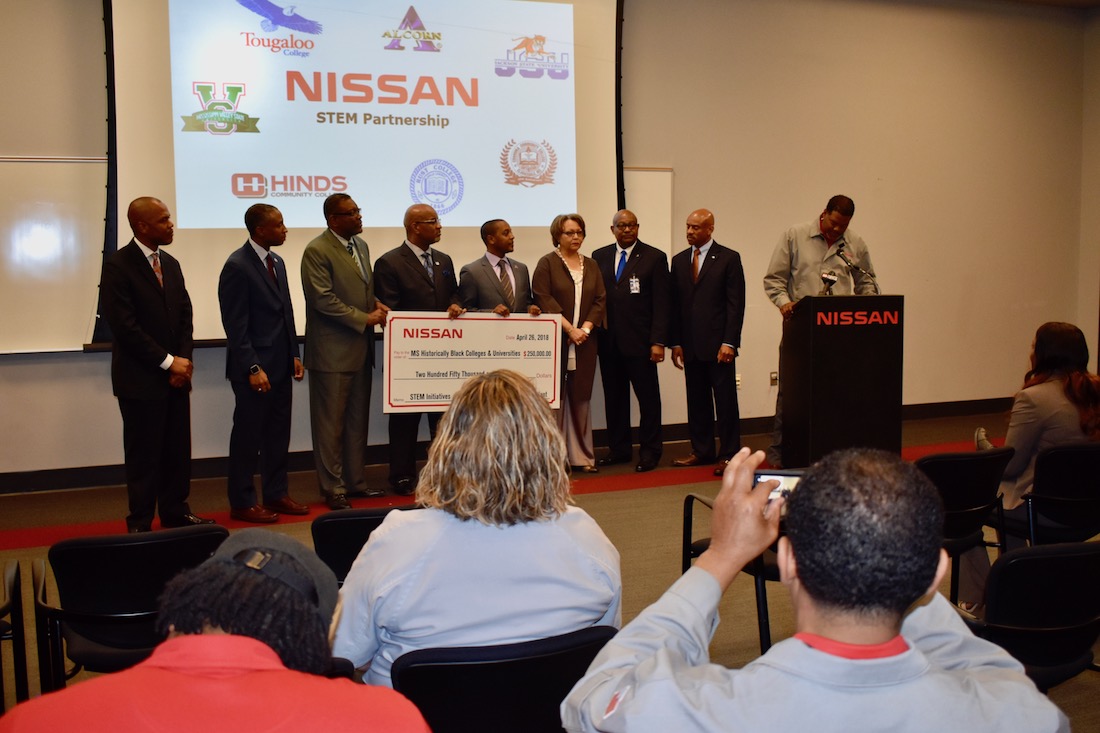 ITTA BENA, Miss.— Nissan has continued its support of Mississippi historically black colleges and universities (HBCUs), including Mississippi Valley State University (MVSU), with a $250,000 donation to help boost science, technology, engineering, and mathematics (STEM) programs and departments.
Representatives from MVSU joined members from Alcorn State University, Jackson State University, Rust College, Tougaloo College, Coahoma Community College and Hinds Community College-Utica Campus Thursday, April 26, at Nissan's Canton-based facility for the donation presentation.
With its latest contribution, Nissan has invested nearly $2 million in local HBCUs since its Canton facility opened in 2003—with more than half directed toward STEM-specific curriculums.
"Our continued commitment to HBCUs, specifically in the areas of science, technology, engineering and mathematics, is vital to fostering the minds of the next George Washington Carver or Mae Jemison," said Jeffrey Webster, director of Diversity and Inclusion for Nissan North America, Inc. These institutions have implemented proven practices to assist students in STEM fields, and we are proud to help make their students' career dreams a reality."
Past donations have helped MVSU's Engineering Technology Department to purchase material for three concentrations: Electronics Technology, Architectural Construction Management and Computer Aided Drafting and Design (CADD).
During Thursday's presentation, MVSU Computer Science major Freronica Frizell of Durant, Miss. shared how the company's continued support has impacted her learning experience at The Valley.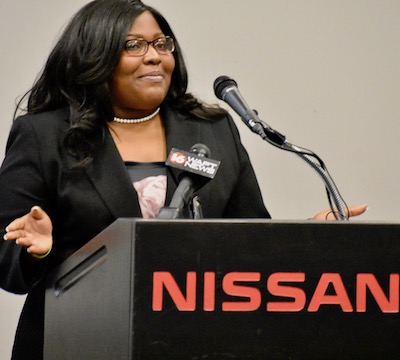 Frizell, a graduating senior, said that many of the expensive computer programs she used during her various internships were made available to her at MVSU through donations from Nissan.
"I didn't know who was contributing the donations to my school, and when I learned it came from Nissan I was really surprised," Frizell said.  To know that Nissan cares so much for my school and my education really means a lot."
A 2016 report from the National Science Foundation showed that HBCUs make up 21 of the top 50 institutions for educating African-American graduates who go on to receive their doctorates in science and engineering. While HBCUs make up just 3 percent of colleges and universities, they produce 27 percent of African-American students with bachelor's degrees in STEM fields.
Nis