Published on Thursday, January 18, 2018
Media Contact: Alana Bowman
Mainstay. Anchor. Backbone.
These words bring to mind the foundation and support provided by those who hold up an ideal they deem worthy. They are strong words, synonyms to "pillar."
They are the foundation of an inaugural awards ceremony called The Pillars: Recognition of Service and Inclusive Excellence.
On Sunday, Jan. 14, at the Mississippi Civil Rights Museum in Jackson, the Office of Diversity and Inclusion paid homage to the students, faculty, employees and alumni who are the mainstay, the backbone, the anchors of diversity and inclusion efforts on the campus of the University of Mississippi Medical Center.
"The Pillars awards were established to recognize faculty, staff and students," said Dr. Juanyce Taylor, chief diversity and inclusion officer. "We felt like this would recognize not only the work that is being done in all three mission areas, but also stimulate thinking around what diversity and inclusion efforts are or what they could look like in action moving forward."
"I want to extend my congratulations and appreciation to all of those who were honored today for what you are doing," said Dr. LouAnn Woodward, vice chancellor for health affairs and dean of the School of Medicine. "The efforts, the energy, the passion and the heart that you bring to the table, to your work and to the Medical Center every single day makes us better, and it makes us stronger."
Taylor said that a steering committee was instrumental in designing the awards. Its members include Whitney Bondurant, director, Sponsored Programs Pre-award; Dan Coleman, associate director, Mississippi Rural Physicians Scholarship Program; Rachel Gressett, director, Health Systems Contracts; Kate Harriel, School of Medicine Class of 2020; Carlen Johnson, School of Pharmacy Class of 2018; Sanette Langston, manager of annual giving, Office of Development; Kim Massey, director of institutional giving, Office of Development; April Mann Overstreet, director, Alumni Affairs; and Joyce Shelby, simulation center manager, Department of Finance and Administration.
The committee scored each candidate by a rubric to determine winners in each category. Of the 24 nominees, 18 submitted requested materials for scoring. Five awards were given, and six honorable mentions were recognized.
Excellence Award
The Excellence Award honors a student, resident or fellow from any of UMMC's seven schools who demonstrates professionalism and efforts to promote a climate of diversity and inclusion among peers. This person serves as a role model for other students in the area of diversity and inclusion in the learning process.
Fourth-year medical student Brent Necaise was chosen for this award. As president, Necaise revitalized UMMC's student-led Gay Straight Alliance. His nomination says that he "galvanized students, faculty and staff in an attempt to create a more inclusive environment" on campus. Under his leadership, the GSA hosted lunch sessions on topics for the LGBT population to "improve diversity and open dialogue." He also was integral in bringing about the first campus-wide recognition of World AIDS Day at which HIV screenings were offered to staff and students.
Necaise tells the story of his medical school orientation as his inspiration for the work he has done to promote diversity and inclusion of the LGBT community.
"When I was in orientation for medical school, the instructors did an exercise where they showed different photos, and students had hand-held remote answering devices to respond with whether the photo made them uncomfortable or not," Necaise said. "The presentation included photos of males and females of different races and ethnic groups."
He said that when the photo of two men embracing appeared on the screen, 85 percent of the students responded that the photo made them uncomfortable.
"As I got to know my classmates, I realized it wasn't out of fear or bitterness." Necaise said. "It was about a lack of exposure to or experience with people who are gay. My goal with the GSA at UMMC was to address this topic in a professional way. As medical professionals, we are to look at people as the whole person and not pass judgment, regardless of their sexual orientation."
Edgar Meyer, a student in the School of Graduate Studies in the Health Sciences, and Denise Powell, a medical student, were recognized as honorable mentions.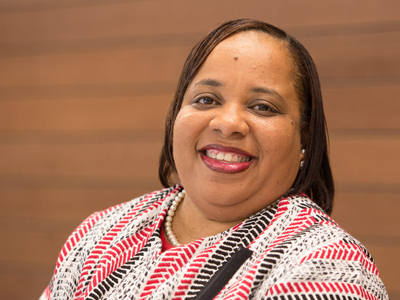 Inclusion Award
The Inclusion Award recognizes a full- or part-time staff member who does not hold a faculty position and has demonstrated "outstanding leadership in expanding diversity and inclusion in the workplace." The candidate should display a high degree of professionalism and a commitment to "enhancing the climate of inclusion in the workplace by fostering a respectful work environment."
Dr. Gaarmel Funches, director of community education outreach, received the Inclusion Award. Funches has spent the past 15 years helping underrepresented and disadvantaged students pursue health care careers through pipeline programs at UMMC.
"She touches the lives of over 200 or more external students a year and has been successful in the recruitment and retention of many UMMC graduates for increasing diversity in both medicine and dentistry," her nomination read. Funches also developed community classes in test-taking skills to prepare students for taking the ACT, MCAT and DAT.
"I am inspired by the appreciation the students show for the little things I do to help them navigate the process of gaining entry into health professional school," Funches said. "To me, this award means that I am doing a good job at what God expects of me, and that is to serve others."
Leslye Bastos Ortega, manager of patient advocacy and language services, and Debra Wilson, project manager with the Jackson Heart Study, were awarded honorable mentions.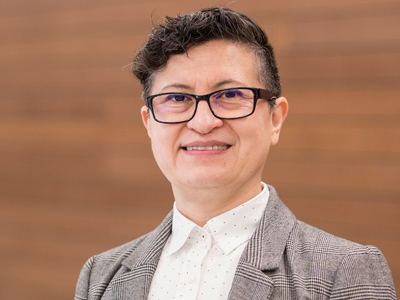 Beacon Award
The Beacon Award recognizes a faculty member, whether clinical or non-clinical, who demonstrates inclusive excellence in teaching, instruction, research or clinical practice. The candidate must display a high degree of professionalism and must be a mentor to diverse faculty, staff and students. They must show professional activity that advances health care and improves outcomes of diverse communities.
Dr. Norma Ojeda, professor of pediatrics and neonatology in the School of Medicine, was chosen to receive the Beacon Award. She serves as the associate director for the Children's Leadership Program and the Pediatric Department Faculty Development Program. She is also the associate director for research in the Neonatology Fellowship Program and the director of the Pediatric Residency Mentoring Research Program. Ojeda is president of the Group for Women in Medicine and Science and chair of the Clinical Research Professionals at the UMMC. She is a volunteer interpreter for Spanish-speaking patients at the Medical Center.
Ojeda works to advance women and minorities in academia and is a role model for service to the minority population.
"I realized that the most effective way to stop inequality at all levels is to empower women and minority populations," Ojeda said. "I hope that minority populations will be given equal opportunities to live their lives and pursue their dreams in a society that respects and appreciates them. This award is a great honor to me."
Dr. Marilyn Harrington, associate professor of nursing, and Dr. Robin Rockhold, professor of pharmacology and toxicology and deputy chief academic officer, received honorable mentions.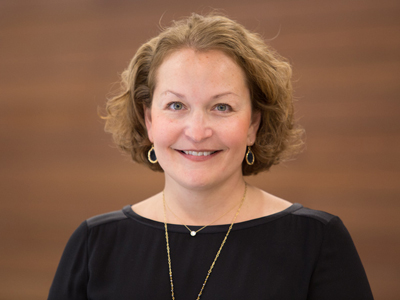 Lifetime Achievement Award
The Lifetime Achievement Award recognizes an alumnus who has made a significant contribution to improving health outcomes in Mississippi's diverse communities. Candidates must display a high level of professionalism and a commitment to improving health outcomes for diverse communities. They must also have shown efforts to create a climate of inclusion to advance the careers of members of diverse groups.
Dr. Barbara Craft, associate professor of oncology and medical director of the UMMC Cancer Institute, received the Lifetime Achievement Award. In her role at the Cancer Institute, located at the Jackson Medical Mall, Craft provides care to women of all races and ages who have breast cancer. She is director of the Breast Cancer Treatment and Prevention Program and is the Cancer Institute medical director for University Physicians.
Craft serves on the Jackson Leadership Council of the American Cancer Society as chair of the Quality of Life Committee and sits on the board for the Komen Foundation. She is a sustaining member of the Jackson Cancer League. She is a member of the School of Medicine Class of 2001.
"I am privileged to take care of breast cancer patients – by nature, most of them are women. I try to give them the best treatment no matter who they are," Craft said. "Breast cancer affects women of all ages and all races, and we try to do the best we can for all of them equally.
"What we are all working for in the oncology world is a cure. We want patients to feel better on treatment, have better quality of life, live longer, and hopefully one day we'll find a cure."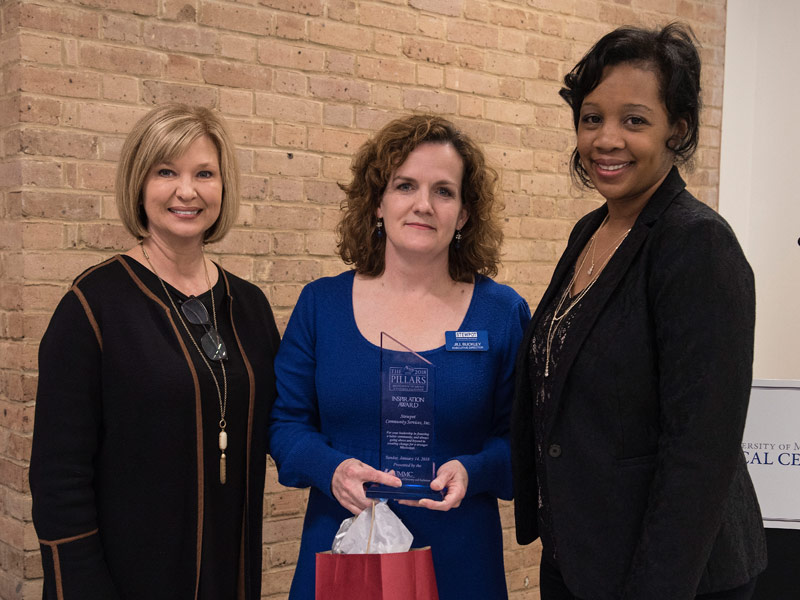 Inspiration Award
The Inspiration Award recognizes a community member or organization that represents the spirit of diversity and inclusion. The candidate must be a Mississippi native, a long-time Mississippi resident, or an organization that has advanced underrepresented communities through servant leadership.
Stewpot Community Services received the Inspiration Award.
"Without any doubt, they are the most deserving," Taylor said. "Stewpot has demonstrated its commitment to our community."
"Thank you on behalf of everyone at Stewpot for this tremendous honor," said Rev. Jill Barnes Buckley, executive director of Stewpot. "We are home grown. We are people who live in this community, caring for each other. Everything we do at Stewpot is about you and making sure that people who need help get it."
______
The Office of Diversity and Inclusion would like to thank the following sponsors of The Pillars: Community Bank, CSpire, Human Rights Campaign, UMMC Associated Student Body, Four Top Catering, A to Z Printing and Entergy.
If you would like to purchase one of the few remaining Mississippi Mystery Grab bags and support the programming efforts of the Office of Diversity and Inclusion, contact Mandy Scott at (601) 815-7857. The bags are $20 each and include prizes valued at up to $150.