Published on Monday, August 20, 2018
Media Contact: Ruth Cummins
Both at home and abroad, Dr. Bob McGuire's career has focused on taking care of people's bones, and especially, their spines.
McGuire, a veteran spinal surgeon at the University of Mississippi Medical Center, is using his decades of experience as a clinician and educator to promote innovative surgeries and standards of care worldwide. The M. Beckett Howorth Professor of Orthopaedic Surgery in the Department of Orthopaedic Surgery has been elected president of the AO Foundation, a nonprofit, medically guided organization led by an international group of surgeons who promote excellence in patient care and outcomes in trauma and musculoskeletal disorders.
He's the first spinal surgeon to serve in the foundation's highest office. Previously, trauma and critical care surgeons were the norm when presidents were chosen for a two-year term by the foundation's trustees. McGuire becomes only the third U.S. physician president of the foundation since 1984.
"Our main emphasis is education and research as it pertains to musculoskeletal disease," said McGuire, who in June celebrated his 28th year at the Medical Center.
Founded in 1958 by 13 visionary surgeons, AO fosters an extensive network of more than 20,000 surgeons, operating room personnel, and scientists in more than 100 countries.
The organization was borne of a need for standards of care for patients coping with bone injuries and healing. A small group of Swiss surgeons formed a study group, calling it "Arbeitsgemeinschaft für Osteosynthesefragen," or AO, to conduct research in bone healing and to refine surgical practices to produce the best patient outcomes. Over the years, AO has broadened its scope to include trauma, craniomaxillofacial and spine in addition to veterinary surgery.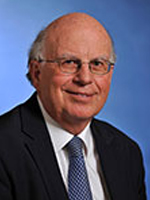 "Dr. McGuire is determined to support ongoing and new initiatives to make AO a leader in digital health developments, while providing stronger support in education and training of surgeons in low-income countries suffering from a terrible burden of injuries," said Dr. Rolf Jeker, CEO and vice chair of the AO Foundation Board.
"He further tries to exploit and value the exceptional experience of AO surgeons to encourage them to mentor younger colleagues to prepare the next generation of AO surgeons," Jeker said.
McGuire's new role with the AO Foundation "will bring increased visibility to UMMC," said Dr. George Russell, James L. Hughes Chair of the Department of Orthopaedic Surgery and Rehabilitation. "He can channel research opportunities to UMMC that we might not have otherwise. It creates opportunities for our residents to have unique experiences and go to new places."
McGuire became involved with AO during his residency. "My program director at the Naval Hospital in Portsmouth became involved in the process and realized excellent ways to manage fractures. I trained on that during my residency," he said. "When I arrived at the University of Mississippi, Dr. James Hughes, one of the founders of AO North America, opened doors for me in the organization. He was a great mentor to me."
Spinal surgeons previously didn't have a prominent role in AO, McGuire said, but that changed in 2003. "We created a whole organizational structure for spine that was looking at research, education and development of membership organizations globally," he said. "The other clinical divisions in the foundation have now started to mirror what we did in the early 2000s in spine."
McGuire was chairman of AOSpine North America from 2006-09 before becoming president of the foundation. "That's when we really got our research arm started," he said. "We had an absolutely brilliant group of neurosurgeons and orthopaedic surgeons.
"We wanted to create an environment where we changed how we treated patients to have the best outcomes."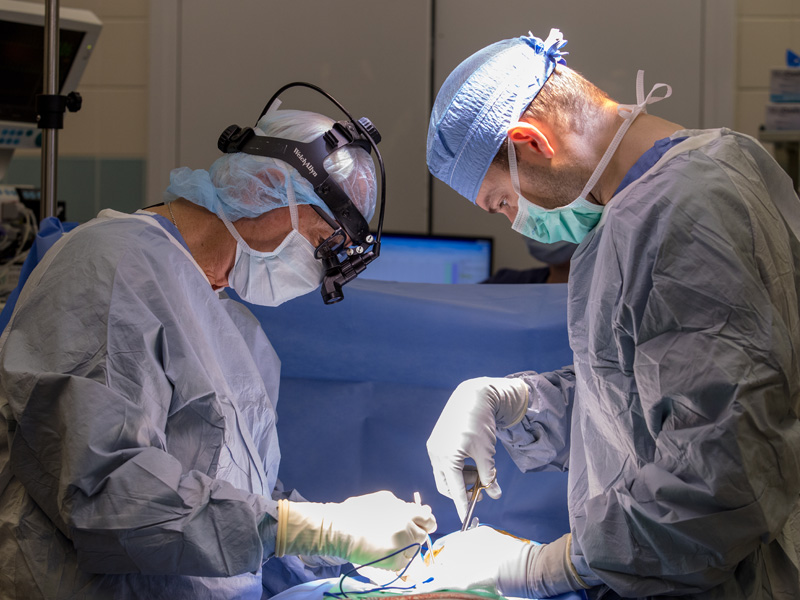 That's what the spine specialist does at the Medical Center, placing a great emphasis on educating residents and other doctors who are early in their careers. His students include Dr. Fuller McCabe, a fourth-year orthopaedic surgery resident.
"He is always an extremely hands-on teacher," said McCabe, who is spending three months in orthopaedic surgery as part of his five-year residency. "He is passionate about teaching and takes extra time to show us anatomy and technique."
McGuire has been involved with clinical research efforts at UMMC that include the development of instruments and techniques that take pressure off the spinal cord to prevent secondary injuries. AO research "changes the way we manage patients," McGuire said. "That's why I'm excited about being involved in this organization. As president, I have the ability to direct the way we move forward."
That includes partnering with AO-affiliated organizations to better the standard of care in third-world countries and other areas internationally where poverty plays a role in treatment. "We are so fortunate in North America," McGuire said. "You can go to a hospital, and you feel like you have all the tools you need to manage your patients. Some other countries are practicing orthopaedics in the Dark Ages."
"Bob is the man," Russell said. "He's very quiet about it, but this honor is quite an acknowledgement."